In recent years,technology and new terminal products in the market are also emerging. a role in the whole system design, that the system can be operated with ease and with less effort. The convenient operation is the desire that everyone pursues, reducing labor intensity and improving work efficiency.
First of all, let's first understand the problems in our lives:
Because the electrical tape, the wiring cap and other connections are prone to aging, falling off, poor insulation performance, etc., the safety hazard is formed, which may cause personal injury such as electric shock or a short circuit of the wire to cause a fire. In addition, as the use of home appliances increases, the power load increases, such as poor contact at the wire connection(excessive resistance at the connection), and large resistance and large current cause heat increase, which will be a huge safety hazard.
How to solve problems in our lives ?
Next, let's understand the fast connecting wire connector features first, as below :
Safety: made of PC insulating material, excellent insulation performance, corrosion resistance, high-temperature resistance, aging resistance.Insulating material, no leakage, which is safer.Safe and flame retardant, fast and convenient, has a long service life.
Test Hole Design: Each of connector has a testing hole for check energize conveniently. All kinds of standard test probes can be used in the lever nuts.
Transparent Cover: you could clearly inspect the wire length and know whether the wires plug the jack or not.No loose wires, tape embrittlement danger, safe and transparent visible.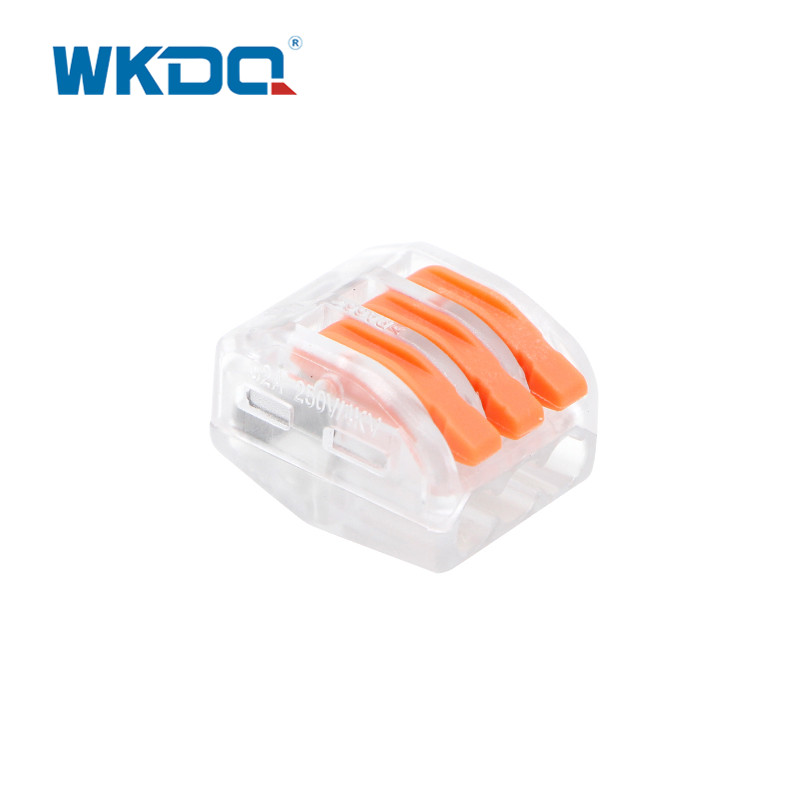 Practical and Economic: All of them are reusable when you need to replace the new wires, just flip the little lever up and pull out what you need and replace.In the use of no tools, anyone can operate, a plug can greatly reduce the wiring work time. Easy to operate, no need for a professional electrician, saving time and effort.
The fast wire connector of the connector is wide, it suitable for many types of cables , which is very practical in practice.The stainless steel circlip, bearing 10kg of tension is completely without problem.The connector completely avoids the above-mentioned safety hazards caused by poor. The fast connecting wire connector not only solve problems in our lives the inconvenience caused , but also solve the technical problems of soft and hard wire connection.
At last, let's to learn how to used the Fast connecting Wire Connector.
Open the housing of wire to 0.35-0.47 inches.
Push the orange lever to 90

°

and plug the wires.

Plug the wires and press the lever down.
Come with essential tool: The professional pliers stripper with precision threading hole and comfortable grip help you strip the wires with ease.