Terminal blocks are available as rows, but each terminal connects to only a single wire. Terminal Block connectors are very useful in situations that require semi-permanent connections, which may require inspections, wire replacement, repair and change (this is why terminal blocks are incredibly common in domestic wiring and industrial environments).
The most common connection method for terminal blocks is the use of a screw, wherein wires are inserted and then clamped down with the use of a single screw. Larger terminal blocks used with large cables typically have the screw pushing the wire against a metal body, whereas terminal blocks used with thinner wire use a screw that pushes down on a lever or flat head that compresses the wire against a metal insert. The wire is inserted and the lever comes down, which prevents the wire from being pulled back out. Another terminal type are terminal blocks with screws for holding an inserted cable on one end and a plug on the other end so that the block can be inserted into a female connector (this allows for hot-swapping).
With the DIN Rail terminal blocks, you can connect conductors safely and conveniently.Thanks to the Push-in connection technology, the screw connection principle makes wiring quick and easy.The terminal blocks are available for DIN Rails or direct mounting.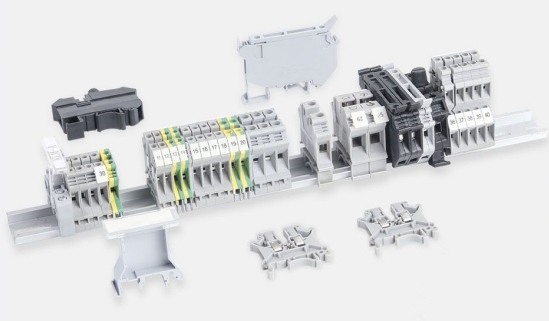 Thanks to different connection methods in a single terminal block, match requirements both for internal and external wiring.
Suitable for various mounting options: DIN rail mounting or direct mounting
Convenient ring cable lug: Connection using the screw-on connection principle with spring-guided screw; maintenance-free with integrated screw locking
Easy and tool-free direct plug-in thanks to Push-in multi-conducto connection
Simple potential distribution with time-saving jumper system, maximum overview thanks to large-surface marking
Safety for users thanks to integrated touch proofness
Terminal blocks are used in many designs and choosing the right one is very important. Learning to recognize the different types of connectors and their advantages and disadvantages can save designers time and money by understanding what their product is, what it will experience and in what environment it will be used.
We are in Terminal block producing for 20 years, providing more products such as Din Rail Terminal Block, power distribution terminal blocks,Busbar Terminal Block , Ferrule Terminal end, push-wire connectors,Heavy Duty Connector and fan filters, etc. If you are interseted in ,please contact me freely ,also you can visit the website ( https://www.wkdq-electric.com/ )to learn our product .